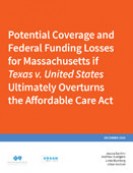 Texas v. United States, a case currently before the U.S. Court of Appeals for the Fifth Circuit, seeks to overturn the Affordable Care Act (ACA). The court's decision in the case could be announced any day and the case may ultimately be decided by the Supreme Court. A final ruling that overturns the ACA would have widespread implications, affecting every state in the nation.
This brief describes the implications of repeal for Massachusetts — focusing on what it could mean for the state's health insurance coverage rates and federal funding, and what conditions would be necessary to prevent a significant erosion of Massachusetts' coverage gains if the courts were to overturn the ACA. Two main scenarios are described: 1) where the ACA is overturned in its entirety and the state is not able to reestablish the subsidized coverage programs created by the state's 2006 health reform and 2) where the ACA is overturned, but the state is able to reestablish its 2006 coverage programs.
The estimates described in this brief were generated from a model developed by the Urban Institute using state-level 2019 cost and coverage data from MassHealth, the Massachusetts Health Connector, and the Center for Health Information and Analysis.