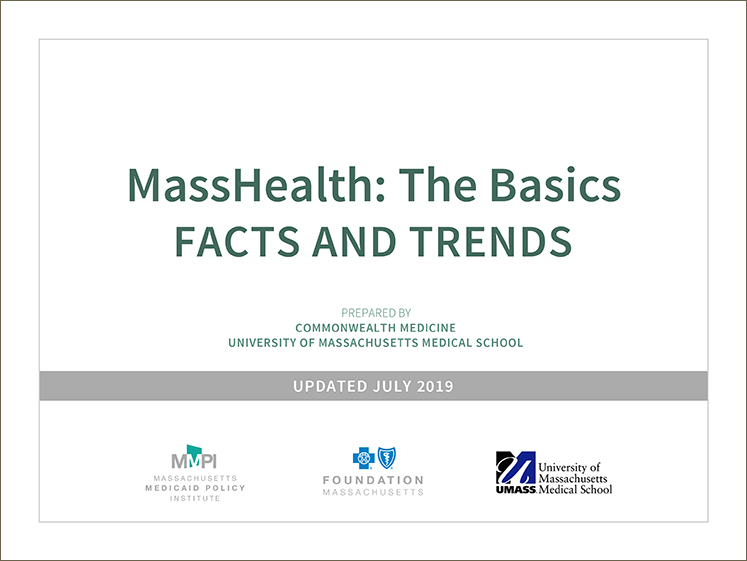 This UPDATED (July 2019) edition of the MassHealth: The Basics chart pack provides new data on MassHealth enrollment and spending from the most recent state fiscal years available, as well as a high-level overview and status update on the state's delivery system reform efforts. The 2019 chart pack features a summary of the program's impacts on access to care and health outcomes and new data highlighting the role of MassHealth in supporting the low-income workforce. The chart pack provides comprehensive yet accessible data points and updates on the complex MassHealth program that will be useful to policymakers and administrators, as well as advocates and academics.
Some of the key information from the 2019 chart pack -- which is organized under three sections, Eligibility and Enrollment, Spending and Cost Drivers, and Reforms -- includes:
MassHealth enrollment has been relatively stable for the past four years (2015-2018), hovering just above 1.8 million members. Notably:

More than 4 in 10 children in Massachusetts are MassHealth members; and
More than three quarters of non-elderly MassHealth members live in working families.

MassHealth represents a significant portion of the state budget, but the majority of its spending is paid for with federal funding, and spending growth has moderated in recent years as enrollment has leveled off.

From 2013-2016, prescription drugs and home- and community-based long-term services and supports (LTSS) were the key drivers behind per-enrollee spending growth in MassHealth.

MassHealth's delivery system reform changes are well underway. Status updates are included on major initiatives:

Newly formed Accountable Care Organizations, which began full operation in March 2018, now have over 890,000 MassHealth members enrolled.
Launch of the Community Partners and Flexible Services programs to improve integration of behavioral health, LTSS, and social services.
Expansion of coverage for outpatient, residential inpatient, and community services to combat the substance use disorder crisis.
The chart pack is made available in PDF and PowerPoint formats to facilitate its use in presentations. A webinar to review this updated chart pack was held on October 29, 2019. A recording of that webinar is available here.