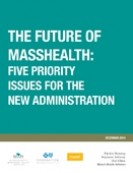 Responsible for the health care coverage of nearly two million residents and $13.7 billion in related expenditures, the future of MassHealth matters to all of us. This report, by Manatt Health Solutions, includes a series of recommendations that emerged through interviews with consumer advocates, providers, insurers, business leaders, public officials, and policy experts as priorities for the next governor.
Findings from this report were featured at a Foundation event held on December 9, 2014, MassHealth Matters: Priorities for the New Administration. Click here to learn more about the event and to see a copy of the slide presentation of the report by Patricia Boozang, Managing Director of Manatt Health Solutions.
Click here to watch the MassHealth Matters video.