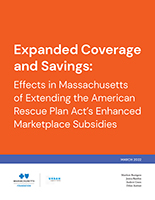 This report provides an analysis of the impacts of the enhanced premium subsidies for purchasing health insurance through the Marketplace, or Health Connector in Massachusetts, that the American Rescue Plan Act (ARPA) temporarily authorized through 2022. While Massachusetts already provided additional state-based financial assistance to many marketplace enrollees prior to ARPA, ARPA enhanced subsidies for some individuals and introduced a new cap on the amount anyone purchasing through the Marketplace has to pay in premiums, effectively expanding eligibility for subsidies to purchase health insurance.
The Build Back Better Act that passed the House of Representatives and is currently stalled in the Senate would extend these subsidies through 2025. In this brief, we evaluate the coverage and cost effects of extending the enhanced subsidies in Massachusetts in 2023. The estimates suggest that, if extended, the enhanced subsidies would:
reduce the number of people who are uninsured in Massachusetts by 8,000 people;
reduce household spending on premiums for people who purchase subsidized coverage through the Health Connector; and
save the state an estimated $133 million in spending on ConnectorCare subsidies in 2023.
The report provides a more detailed look at each of these effects and is intended to be a resource for health care advocates, policymakers, and other stakeholders to understand the impact of these subsidies expiring.