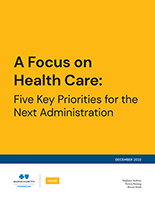 Massachusetts' historical achievements in bold and innovative health care policy have positioned the state as a national leader in transforming health care coverage, access, affordability, and quality. Yet despite decades of progress, the COVID-19 pandemic made it impossible to ignore that not all Massachusetts residents are able to access, afford, or experience health care equally.
In early 2022, anticipating the election of a new governor and slate of legislative leaders, the Blue Cross Blue Shield of Massachusetts Foundation in partnership with Manatt Health solicited perspectives on health reform priorities from a broad and diverse group of health care stakeholders, including consumer, provider, health plan, business, and labor representatives. This report synthesizes the findings from these stakeholder interviews, describing five health care priorities for the new governor and legislative leaders to immediately pursue: 1) addressing systemic racism and inequities in health; 2) ensuring consumer affordability of health care; 3) confronting the mental health crisis for children and youth; 4) improving the affordability of and access to long-term services and supports (LTSS); and 5) solving severe health care workforce shortages, particularly in the paraprofessional LTSS and behavioral health workforce.
The report explores each theme in detail and identifies specific action steps incoming state leaders can take to address these challenges. An accompanying executive summary and infographic provide a high-level overview that can be used by a wide audience.