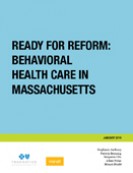 This report and companion chart pack document and describe the current behavioral health (inclusive of mental health and substance use disorder) care system for children, adolescents, and adults in Massachusetts; outline a new whole-person-oriented vision for behavioral health care in the Commonwealth; and propose a strategic approach and series of recommendations through which the state can advance this vision to achieve reform. This new vision for behavioral health care in Massachusetts addresses some of the most pressing challenges impacting how behavioral health care is delivered today. Among others, these include: barriers to accessing and navigating the behavioral health care continuum, inadequate coverage of behavioral health care services across payers, workforce shortages and capacity issues, unnecessary regulatory burden and redundancy, fragmented administrative and payment functions, and lack of monitoring and accountability for behavioral health outcomes.
To develop this new vision, researchers interviewed and facilitated discussion groups with state and national behavioral health experts, stakeholders, and thought leaders, and conducted a comprehensive landscape scan of the current public and private behavioral health care system in Massachusetts. Researchers identified the system's many strengths and persistent weaknesses and then constructed a "model" system to guide the new vision.
Findings from this report were featured at a Foundation event held earlier today. Click here to learn more about the event.