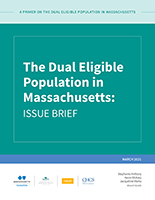 Of the more than 1.8 million people enrolled in MassHealth, Massachusetts' Medicaid program, one in five are dually eligible and receive health care coverage through two distinct payers – Medicare and MassHealth. This educational primer was developed to build a deeper understanding of the dual eligible population in Massachusetts. It illustrates the diversity of dual eligible individuals' clinical and functional needs, service utilization, and spending patterns. The primer also describes the program options that are available to meet their needs, with a particular focus on MassHealth's integrated care programs – One Care, the Program of All-Inclusive Care for the Elderly (PACE), and Senior Care Options (SCO). Also included in the primer is a description of the state's proposed reforms, known as the Duals Demonstration 2.0, to increase enrollment in One Care and SCO and improve care integration and quality for dual eligible members.
The primer consists of four components:
An issue brief, which provides an overview of the characteristics of dual eligible members in Massachusetts and the costs associated with their care, as well as of the coverage landscape for the state's dual eligible individuals and key objectives of the Duals Demo 2.0;
 
An in-depth comparative assessment of the integrated care programs available to dual eligible members in Massachusetts;
 
A data chart pack, which offers a detailed analysis of enrollment, demographics, and spending trends among dual eligible individuals in Massachusetts; and
 
A set of five profiles of dual eligible members enrolled in integrated care and fee-for-service delivery systems in Massachusetts.