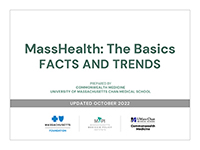 This UPDATED (October 2022) edition of the MassHealth: The Basics chart pack provides new data on MassHealth enrollment and spending from the most recent state fiscal years available. The chart pack also features a high-level overview and status update on the state's delivery system reform efforts, including a summary of the key elements of MassHealth's latest 1115 demonstration waiver extension that was approved by the Centers for Medicare and Medicaid Services on September 28, 2022.
The chart pack provides comprehensive yet accessible data points and program updates to help policymakers, administrators, advocates, and academics better understand the complex MassHealth program. It is made available in PDF and PowerPoint formats to facilitate its use in presentations.
MMPI recently hosted a webinar to review facts and data about MassHealth eligibility, costs, and recent reforms from the latest edition of MassHealth: The Basics. Click here to access a recording of this webinar and a copy of the webinar slides.