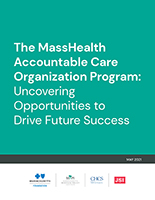 This report describes the results of a qualitative analysis of the MassHealth Accountable Care Organization (ACO) program over its first two years of operation. The Foundation commissioned this report to provide timely insight into what is working well, challenges stakeholders are facing, and opportunities to strengthen the program. The findings from this analysis are intended to fill a current gap in publicly available data evaluating the ACO program; they elevate the perspective of organizations operating within this new program, and can be used to help inform policymakers and administrators as they continue to build on and refine the ACO program.
This analysis was informed by a series of interviews with 34 individuals representing 21 organizations, including ACOs, managed care organizations, Long-Term Services and Supports and Behavioral Health Community Partners (CPs), Social Services Organizations (SSOs), and other stakeholders involved in the program. The following five key themes emerged from this research:
Interviewees overwhelmingly support the Accountable Care Organization program and praise MassHealth's stakeholder engagement efforts to improve the program.
Interviewees report progress toward improving care delivery but acknowledge that making a measurable impact on health outcomes takes time.
The Accountable Care Organization program sparked the formation of beneficial partnerships among Accountable Care Organizations, Community Partners, and Social Service Organizations.
The Community Partner Program's complexity created a burden for Accountable Care Organizations and Community Partners.
The Flexible Services Program is promising, but relationships between Accountable Care Organizations and Social Service Organizations could benefit from more structure.
To ensure future success of the ACO program, the report also makes specific programmatic recommendations for strengthening the program moving forward. These recommendations focus on: (1) supporting improved communication and data sharing among ACOs, CPs, and SSOs; and (2) addressing structural elements of the program that hinder partnerships in the CP and Flexible Services Programs.