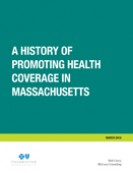 This brief provides an overview of the steps that Massachusetts has taken to establish a functioning insurance market that provides consumers with meaningful access to health coverage. It includes a review of statutory and regulatory provisions in place today, and provides context for key health reform initiatives that have occurred over the past 30+ years. This brief is structured around four key components of a functioning market for health coverage:
1. Encouraging or requiring coverage of a comprehensive set of benefits and services;
2. Ensuring fair competition among insurance carriers;
3. Providing access to coverage, particularly for low- and middle-income residents; and
4. Instituting mechanisms to protect consumers.
The policies and provisions described in this brief have played an important role in the evolution of the Massachusetts market, helping the state achieve near-universal coverage, enabling most Massachusetts employers to offer comprehensive coverage to their employees, establishing a competitive market for health coverage, and protecting consumers.