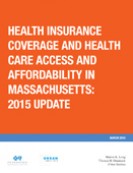 This collection of reports and chart packs is the latest in a series by the Urban Institute analyzing the results of the Massachusetts Health Reform Survey (MHRS) which has been conducted most years since 2006, the year that Commonwealth enacted comprehensive health care reform. The 2015 MHRS, conducted  in the fall of 2015, provides an assessment of the state's efforts to improve the affordability of care and reduce health care spending through the cost containment legislation titled "An Act Improving the Quality of Health Care and Reducing Costs Through Increased Transparency, Efficiency and Innovation" (Chapter 224 of the Acts of 2012). It also assesses the impact of the federal Affordable Care Act (ACA) that began in January 2014.
The 2015 MHRS highlights sustained gains in health insurance coverage since the passage of Massachusetts' 2006 health care reform law, as well as persistent gaps in health care access and affordability for many of those with insurance coverage. Low-income adults and those with health problems tend to be disproportionately impacted by these gaps. The survey findings are a reminder that the goals of health care reform are not fully achieved by simply reducing the number of people who are uninsured. New strategies are needed to improve access to care and reduce the burden of health care costs for Massachusetts families with insurance coverage, particularly for those made more vulnerable by limited resources and high health care needs.
This year's results are presented in a variety of publications including:
In an effort to expand opportunities for researchers to understand the experience of Massachusetts consumers with accessing and affording health care, the Blue Cross Blue Shield of Massachusetts Foundation will be making available a public use file of the 2015 survey as they did with the previous years' surveys (i.e., 2006 – 2010, 2012-2013). The 2015 public use files will be available through the Inter-University Consortium for Political and Social Research.
On Tuesday, April 19th, the Foundation hosted a webinar to review key findings from the 2015 Massachusetts Health Reform Survey with author Sharon Long of the Urban Institute. Click here to access the webinar slides.